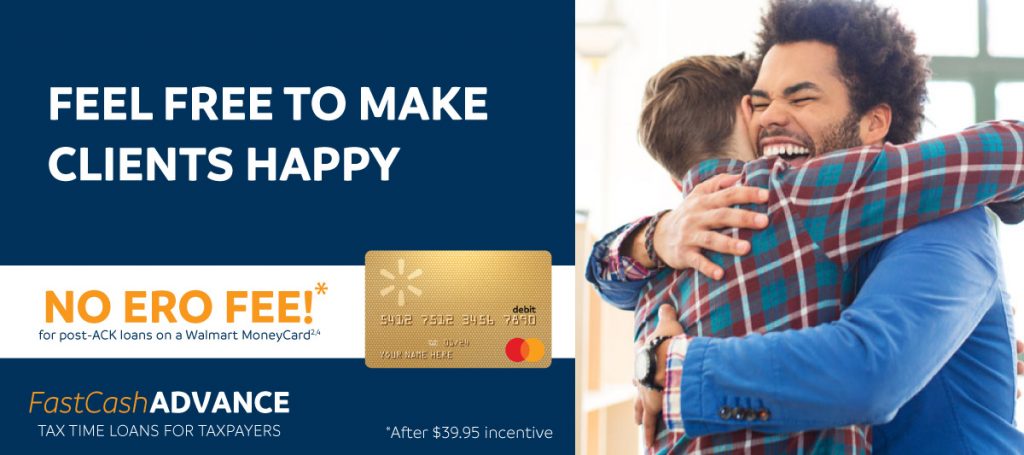 Announcing an even better taxpayer advance for 2020
We're making it even easier to attract clients with a taxpayer advance
Looking to grow your tax practice in 2020? If you're looking to compete with large tax offices and attract or retain clients, it's essential to have a competitive taxpayer advance. TPG has made changes to our 2020 taxpayer advance that will make it even easier to leverage the taxpayer advance.
More happy clients
New lender for 2020
We implemented changes that will improve the client experience for 2020, by partnering with a lender that has years of tax industry experience.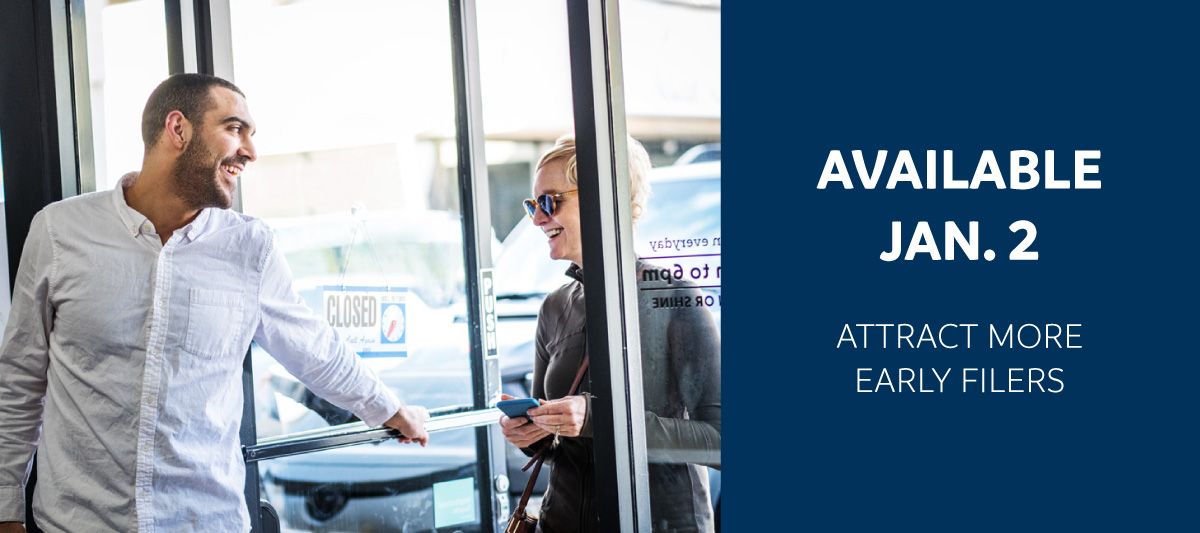 Start attracting clients early
Get clients in your office before competitors do
Taxpayers can begin applying for Fast Cash Advance starting January 2nd.2 That means you can start preparing returns for clients before they consider going to a competitor that isn't open as early. With Fast Cash Advance you can help clients that need money before their refund is ready. Whether it's paying bills, taking care of an emergency, or whatever the need, take care of clients that can't afford to wait weeks for their refund.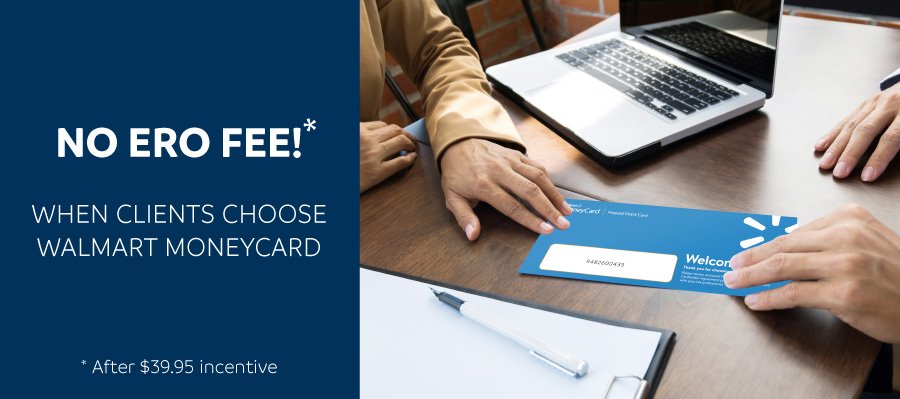 FREE* to you when taxpayers choose Walmart MoneyCard5
No ERO fee for post-ACK loans up to $6,0003
Not sure you want to spend the money to offer the advance? We're making the decision easy by eliminating the ERO fee* for taxpayers that get a post-IRS Acknowledged (Post-IRS ACK) Fast Cash Advance and choose the Walmart MoneyCard.
*After $39.95 incentive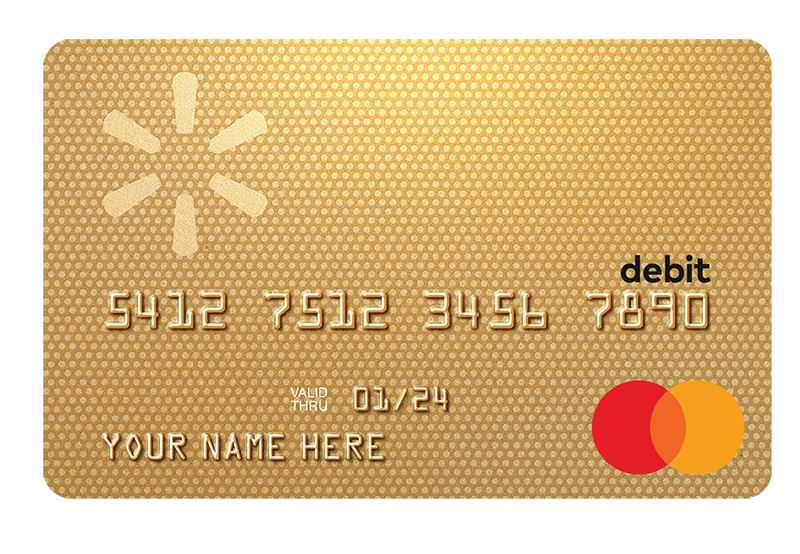 ERO cost (any loan amount)
| Refund Advance Type | ERO Fee (MoneyCard) | ERO Fee (cashier's check) |
| --- | --- | --- |
| Pre-ACK Advance (avail. Jan. 2) | $39.95* | $79.90 |
| Post-ACK Advance (Avail. 1st day of IRS acceptance) | FREE!* | $39.95 |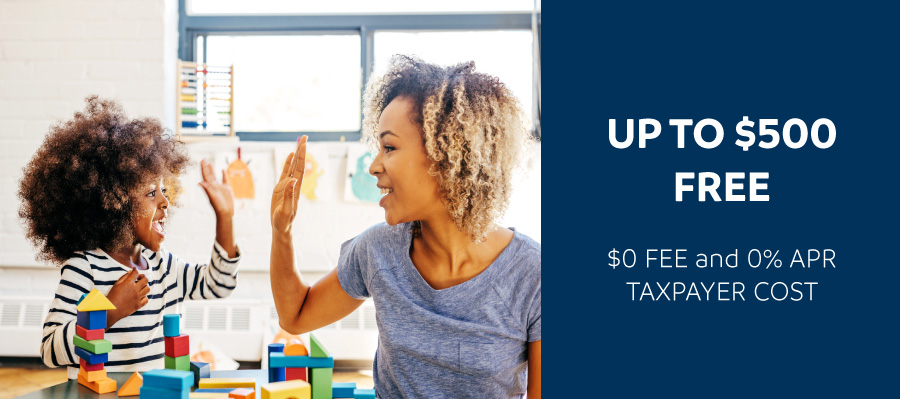 Free option for taxpayers
Up to $500 available at no cost to taxpayers4
Taxpayers can receive up to $500 at no cost. If clients select the Walmart MoneyCard you don't have to pay a fee either. Taxpayers looking to receive more than $500 can pay to receive an advance up to $6,000.1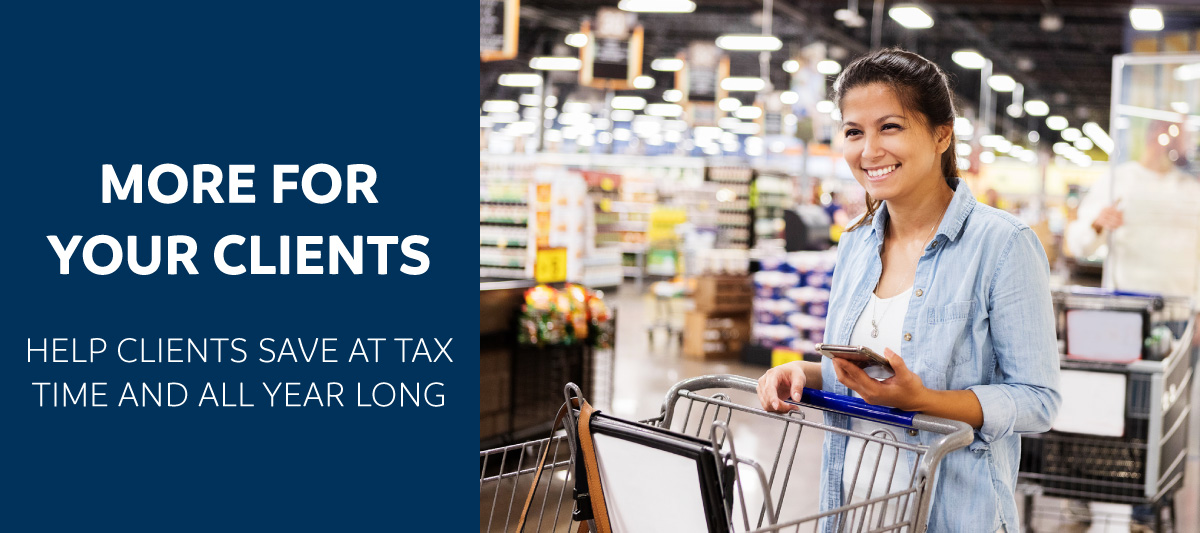 Taxpayers get more benefits with Walmart MoneyCard
Your clients save when they choose Walmart MoneyCard, plus they can earn up to 3% in Cash Back rewards when they shop at Walmart.5 With Walmart MoneyCard it pays to use the card all year long.
New features for 2020
Free MoneyCard account for teenagers, 13-18 and older with all of the same great benefits (limit 4 cards per account)
Free reloads using the MoneyCard app
Send money to anyone through the mobile app
More ways for taxpayers to use their money
Get pay up to 2 days before payday with ASAP Direct Deposit6
Free cash off card at any Walmart customer service center
Send money for free through Mobile App to anyone
Save money in the Walmart MoneyCard Vault

Easy-to-use mobile app
Pay bills
Find ATMs nearby
Get balance alerts7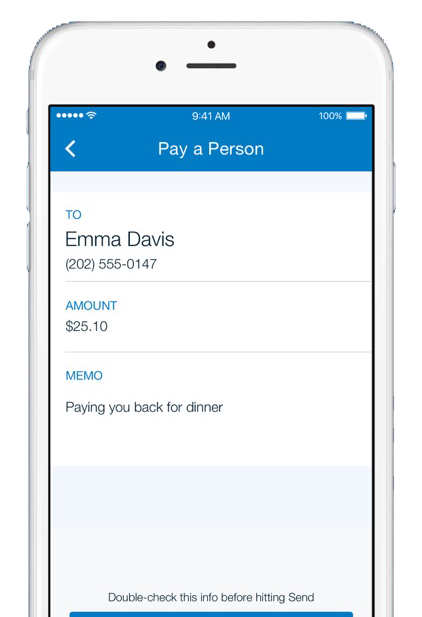 Some Walmart MoneyCard features only available on a personalized card.
Use Fast Cash Advance to grow your business
Big  means it's easy and affordable to attract clients
Looking to compete with national franchises? Enroll with TPG and opt-in to Fast Cash Advance to get access to the taxpayer advance program that gives you a competitive edge. When taxpayers need money before their refund is ready don't let them go to a competitor. Service them without breaking the bank.
1 Fast Cash Advance is an optional tax-refund related loan provided by First Century Bank, N.A., member FDIC (it is not the actual tax refund) and is available at participating locations. The amount of the loan and applicable interest will be deducted from tax refunds and reduce the amount that is paid directly to the taxpayer from the refund. Fees for other optional products or product features may apply, and will be disclosed at the time of application. Tax returns may be filed electronically without applying for this loan. Loans are offered in amounts from $250–$6,000 and are offered both pre–IRS acknowledgment of the tax return and post-IRS acknowledgment of the tax return. Pre-acknowledgment loans of $3,000 or less currently have an Annual Percentage Rate (APR) of 16%, and such loans of greater than $3,000 have an APR of 45%. Post-acknowledgment loans of $250–$500 currently have an APR of 0%, and such loans of $501–$3,000 have an APR of 16%, and such loans above $3,000 have an APR of 45%. For example, for a post-acknowledgment loan of $2,000 with a repayment period of 30 days, the total amount payable in a single payment is $2,026.30 including principal and interest.  Covered military borrowers will have a military APR of up to 35.95% for loans of $3,001-$6,000. Not all consumers will qualify for a loan or for the maximum loan amount.  Offer and terms subject to change at any time without prior notice.
2 Pre-ACK Fast Cash Advance available Jan. 2. In-season Fast Cash Advance available first day of filing.
3 Based on cost for post-acknowledgment refund advance. Incentive paid as long as IRS tax refund is loaded on to the Walmart Money Card®. IRS tax refund deposit must be received by 5/31/20. $39.95 incentive paid by 6/30/20 for taxpayers with Fast Cash Advance and IRS-funded Refund Transfer loaded onto a Walmart MoneyCard. If enrolled through a service bureau, please check with bureau associate for details on incentive payment. Must be enrolled in the standard Refund Transfer program to qualify for standard pricing; all discount programs offered through TPG are subject to other pricing.
4 No fee to taxpayer for Post-ACK loans up to $500. Post-ACK Fast Cash Advance loans approved upon IRS acknowledgment.
5 Cash Back is credited to the card balance at the end of the Reward Year and is subject to successful activation and other eligibility requirements. Up to $75 per year. The Walmart MoneyCard  is subject to successful activation. Additional fees may apply. See Cardholder Agreement or visit WalmartMoneyCard.com for complete details. The Mastercard Card is issued by Green Dot Bank, member FDIC, pursuant to a license from Mastercard International Inc. Green Dot Bank also operates as GoBank and Bonneville Bank. All of these trade names are used by, and refer to, a single FDIC-insured bank, Green Dot Bank. Deposits under any of these trade names are aggregated for deposit insurance.
The "Spark" design , and Walmart and Save money. Live better. are marks and/or registered marks of Wal-Mart Stores, Inc.
6 Subject to deposit verification and your payment provider's process and timing. Timing depends on deposit verification and when we get notice from employer or benefits provider, and may vary from pay period to pay period.
7 Carrier message and data rates apply.