Give clients a pay-by-refund option with the Refund Transfer
Collect tax prep fees from your client's tax refund1

Available first day of filing
$44.95 fee paid by taxpayer
Your fees are taken out of your client's refund
Clients choose how to receive their refund
Upgrade the Refund Transfer with Auto Collect
Collect unfunded tax preparation fees from past-due clients5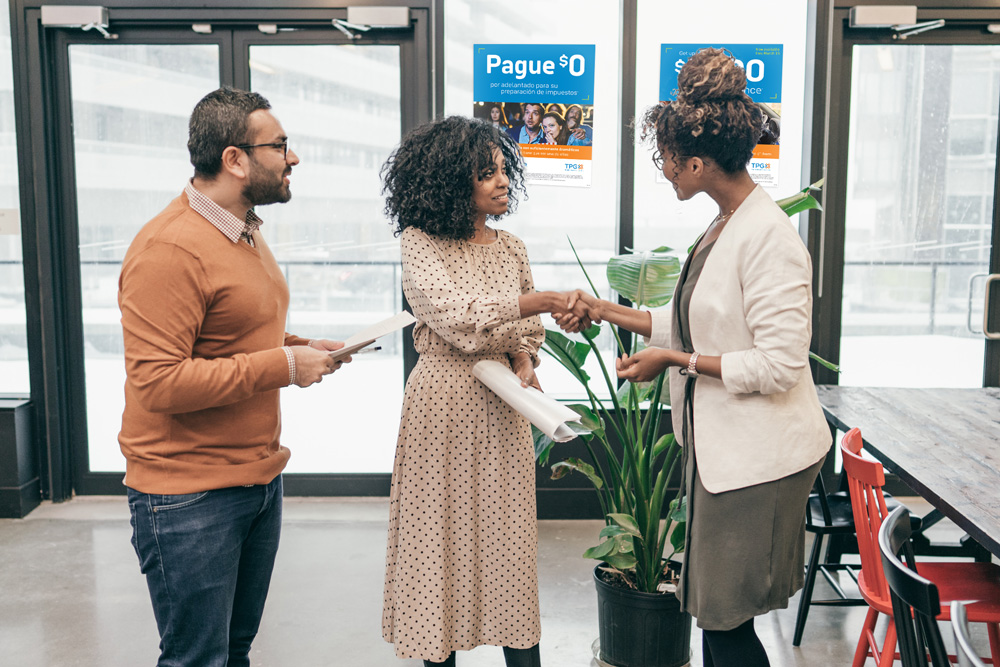 Free Marketing
Enroll in our standard Refund Transfer program and we'll ship a free marketing kit to you.6
Premium Materials
Get attention with high-profile materials like flags, banners and oversized posters.6
Free Direct Mail
Personalized postcards addressed to your return clients help you retain more clients.7
Digital advertising
Access dozens of videos and free digital ads you can use for social media, your website, email, and more.
1 Refund Transfers are deposit products using Green Dot Bank, Member FDIC, that enable certain deductions from the account to be processed. Refund Transfers are not loans. Tax refund and e-filing are required in order to receive Refund Transfer. Fees apply. Terms and conditions are subject to change without notice. Ask your preparer about other IRS e-file options, some of which are provided at no additional cost.
2 Green Dot® card is issued by Green Dot Bank, Member FDIC, pursuant to a license from Visa U.S.A., Inc. Visa is a registered trademark of Visa International Service Association. Green Dot Bank also operates under the following registered trade names: GO2bank, GoBank and Bonneville Bank. All of these registered trade names are used by, and refer to, a single FDIC-insured bank, Green Dot Bank. Deposits under any of these trade names are deposits with Green Dot Bank and are aggregated for deposit insurance coverage up to the allowable limits.
3 TPG is not sponsored or endorsed by or otherwise affiliated with Wells Fargo Bank, N.A.. Checks may be cashed at Wells Fargo Bank branch locations. A check cashing fee will be charged to anyone cashing a check who does not have a Wells Fargo deposit account in accordance with Wells Fargo's standard fees for check cashing. The current fee is $10 per check.
4 Customer must obtain a Refund Transfer (separate fees apply). Cost is $4 or less for checks up to $1,000 and $8 or less for checks up to $7,500. Currently, check cashing at Walmart is not available in NJ and NY. The check limit at Walmart in Connecticut is $6,000 and Florida is $1,999.99 per person per day. Fees and limitations apply.
5 Auto Collect is an optional service provided by Santa Barbara Tax Products Group, LLC. Fees apply to the ERO only with respect to successful collections. TPG is facilitating collections that are being made directly through EROs.
6 Available to tax professionals enrolled in our standard Refund Transfer program. Materials available while supplies last. Additional cost for premium marketing materials.
7 Available to returning clients with 100+ applied Refund Transfers enrolled in our standard Refund Transfer program.