Digital marketing for tax professionals
Promote your tax practice like a pro with our business management platform1

The marketing platform for tax pros
Scheduling
Online appointment scheduling with automated reminders that save you time
Client management
Manage client communications, documents and scheduling from one place
Web presence
Capture more leads and share documents securely with clients
Digital marketing
Attract and retain more clients with email and SMS text message marketing
See how it works
See how Marketing Pro can help you promote and manage your tax practice.

NEW!

Buy Marketing Pro now and pay during the tax season
Introducing Marketing Pro Advance Express (MAX)
Purchase Marketing Pro now and your annual subscription is paid during tax season.2
No up-front cost
No credit card required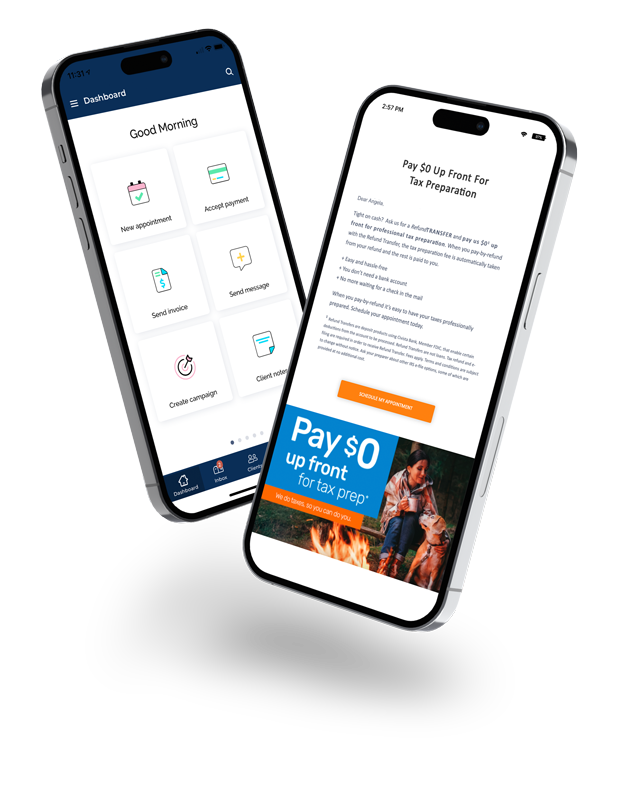 Tap the power of email marketing
Email marketing templates
Bring clients back at tax time and all year long with email marketing including a variety of TPG-designed templates to help you get a jump start on competitors.
Automate your marketing emails
Turn on happy birthday emails, scheduling reminders or any type of promotional email and let Marketing Pro work for you even when you aren't working.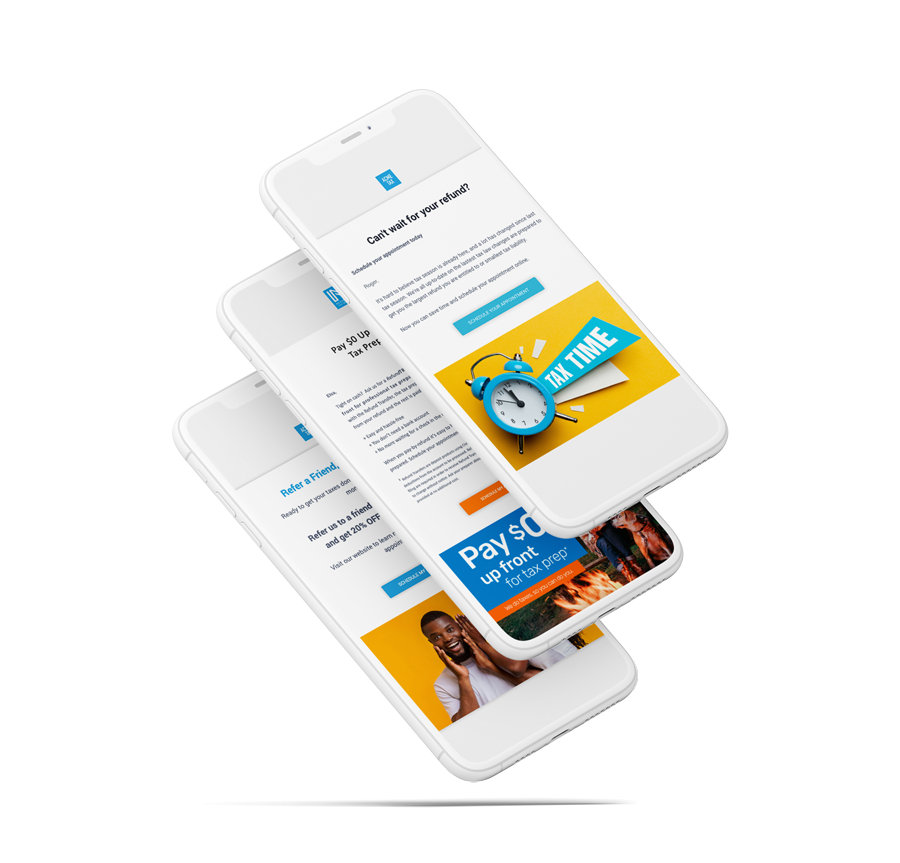 Not just for tax time
Promote other products and services you offer and stay top-of-mind by engaging with clients all year long.
Track your success
Track client email opens and sends so you can see who is is interested in specific services you are offering.
Manage clients from anywhere
Marketing Pro doesn't just help you attract and retain clients. Our digital marketing platform gives you the tools you need to manage clients from anywhere.  Whether contactless or in-store, Marketing Pro has you covered.
Daily dashboard
Get a daily account overview including notifications when you have new appointments, messages from clients and more.
Create campaigns
Create and send email or SMS text message campaigns to your clients. Save time by using our pre-built campaigns.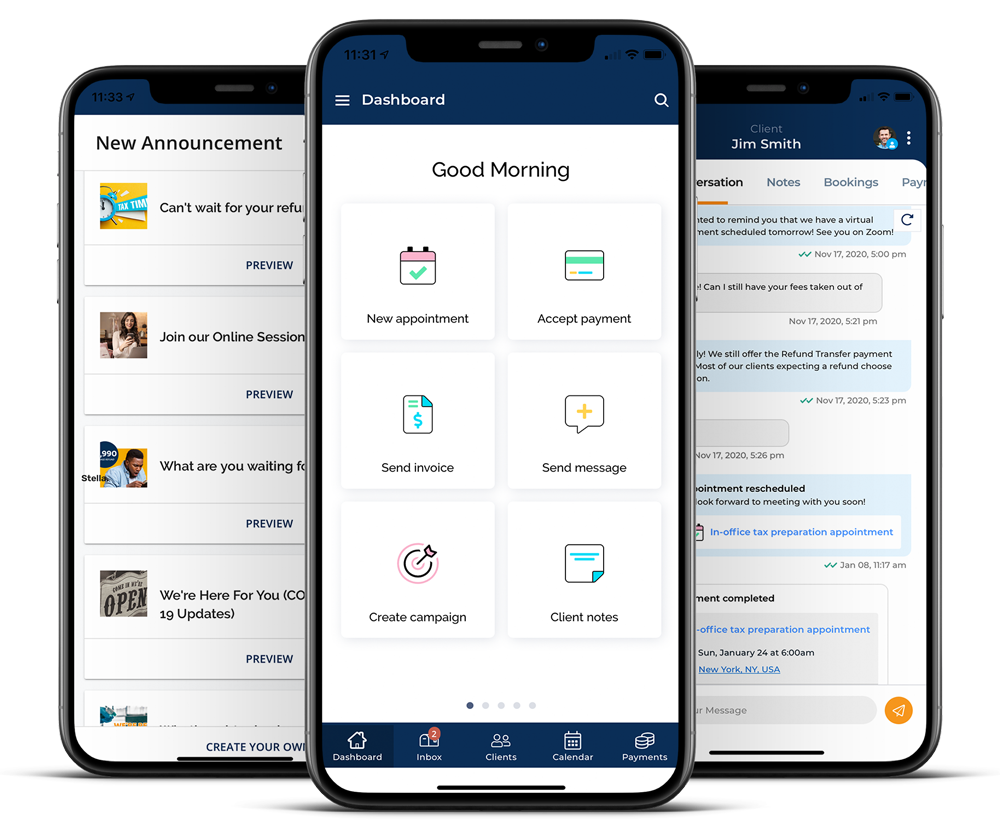 Manage appointments
Manage your calendar and your team's calendar. Reschedule appointments and add new appointments.
Client management
Manage your client list, communicate with clients, see files clients have uploaded and more right from the app
Measure your success
Real time analytics
Eliminate the guesswork from your marketing. Measure your results, and identify which campaigns yield the most clients. With exclusive campaigns only available through Marketing Pro, you'll see just how effective good marketing is.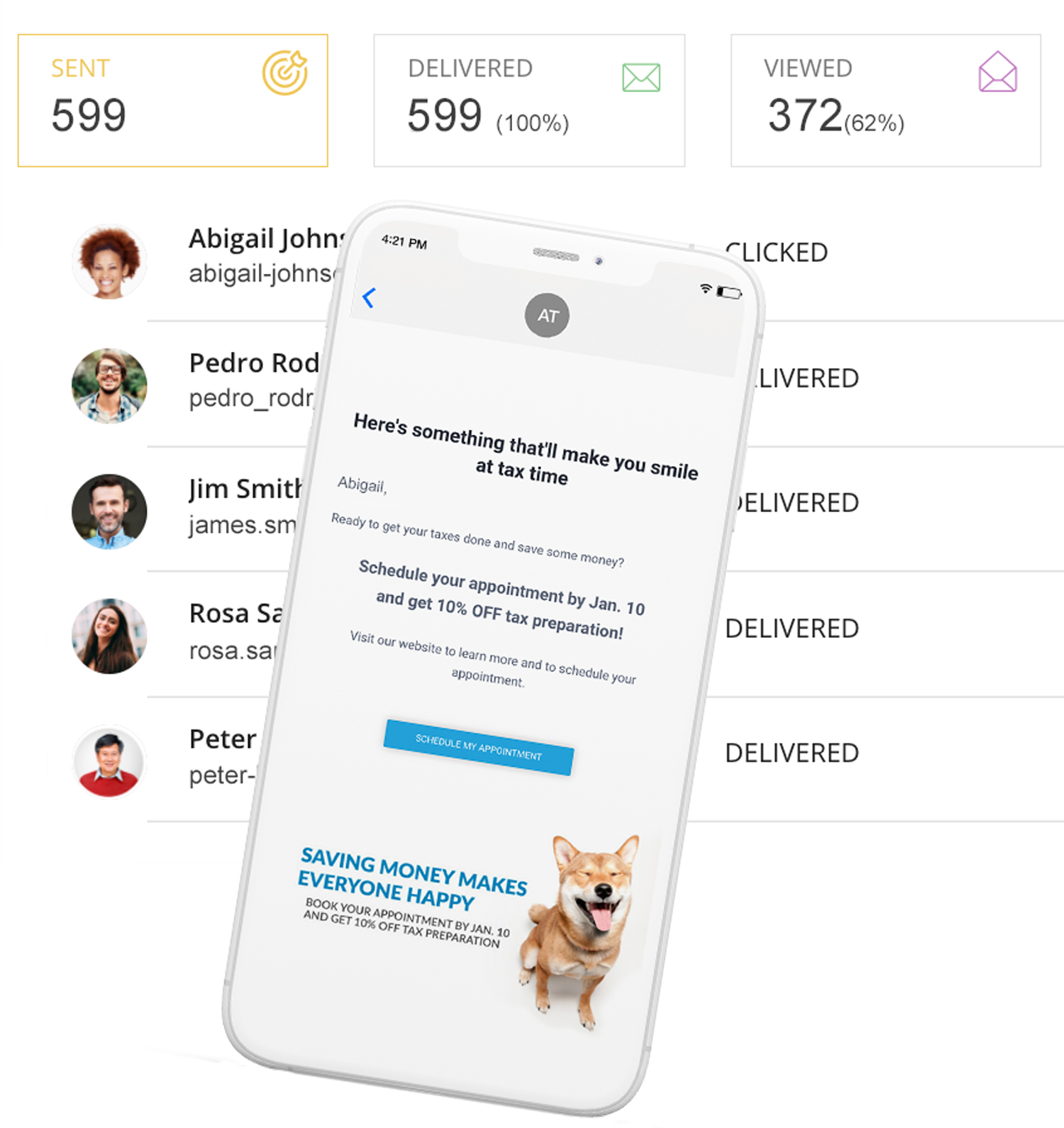 Track client engagement
Did clients see your email? Who's opening your promotional emails? Track client engagement and see who is reading what, as it happens.
Data driven marketing
Marketing Pro provides analytics, so you can make data informed decisions about your marketing. See who opened, viewed and clicked campaigns.
Email and SMS
Measure client engagement with email and SMS text message marketing and get insights into what matters most to your clients.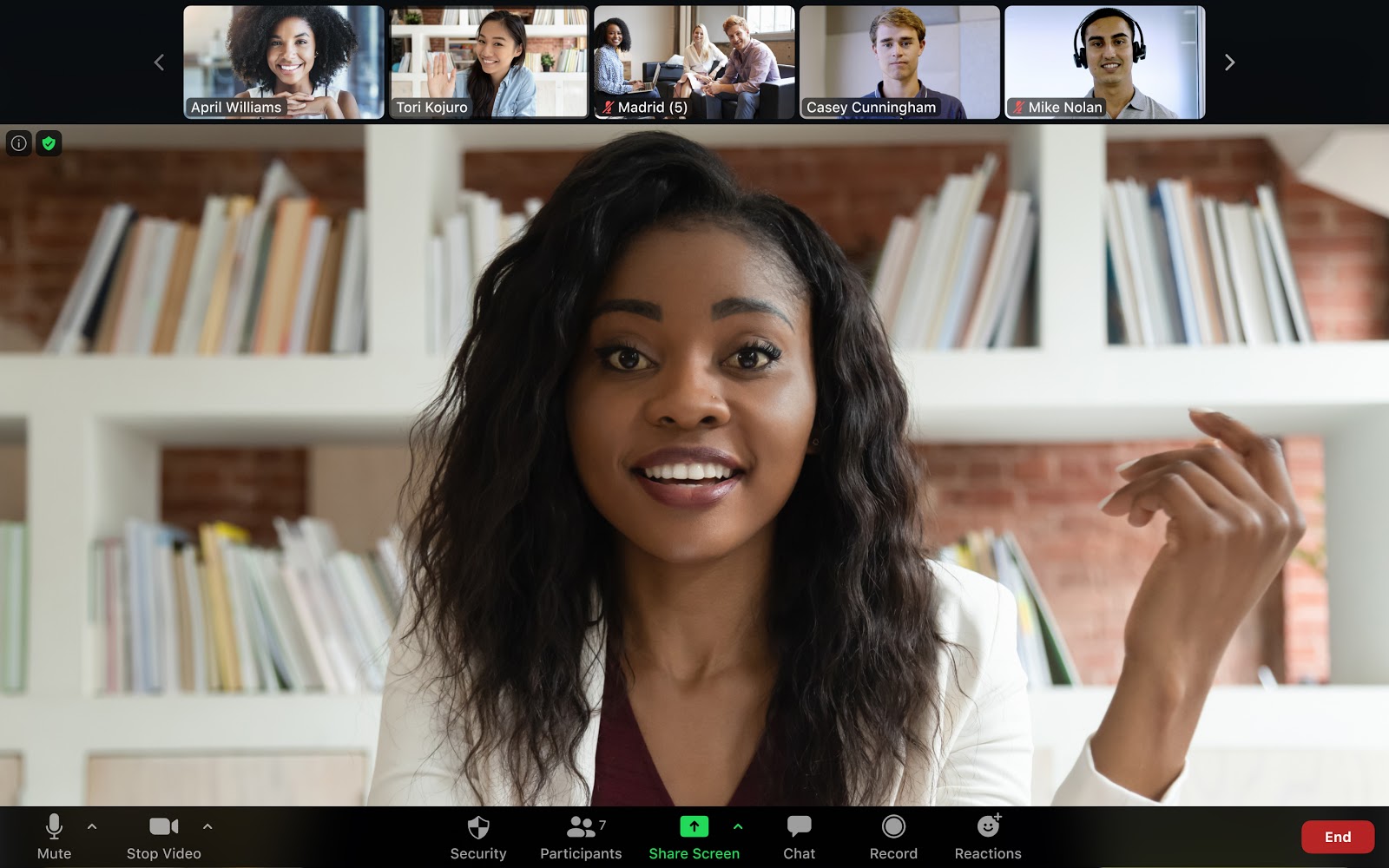 Virtual client appointments
Have clients that are not ready to come back into your physical office due to the pandemic? Connect Marketing Pro with Zoom and you can meet with clients from anywhere.
View everything in one place
Track client activity
Marketing activity and historical client data are all curated in one place.
Change of plans?
Reschedule appointments or propose new times and clients are automatically updated by email or text.
Share documents securely
Documents shared securely with clients and documents clients shared securely with you are all found in one place.
Automated reminders
Automated reminders help reduce no-shows and save you time.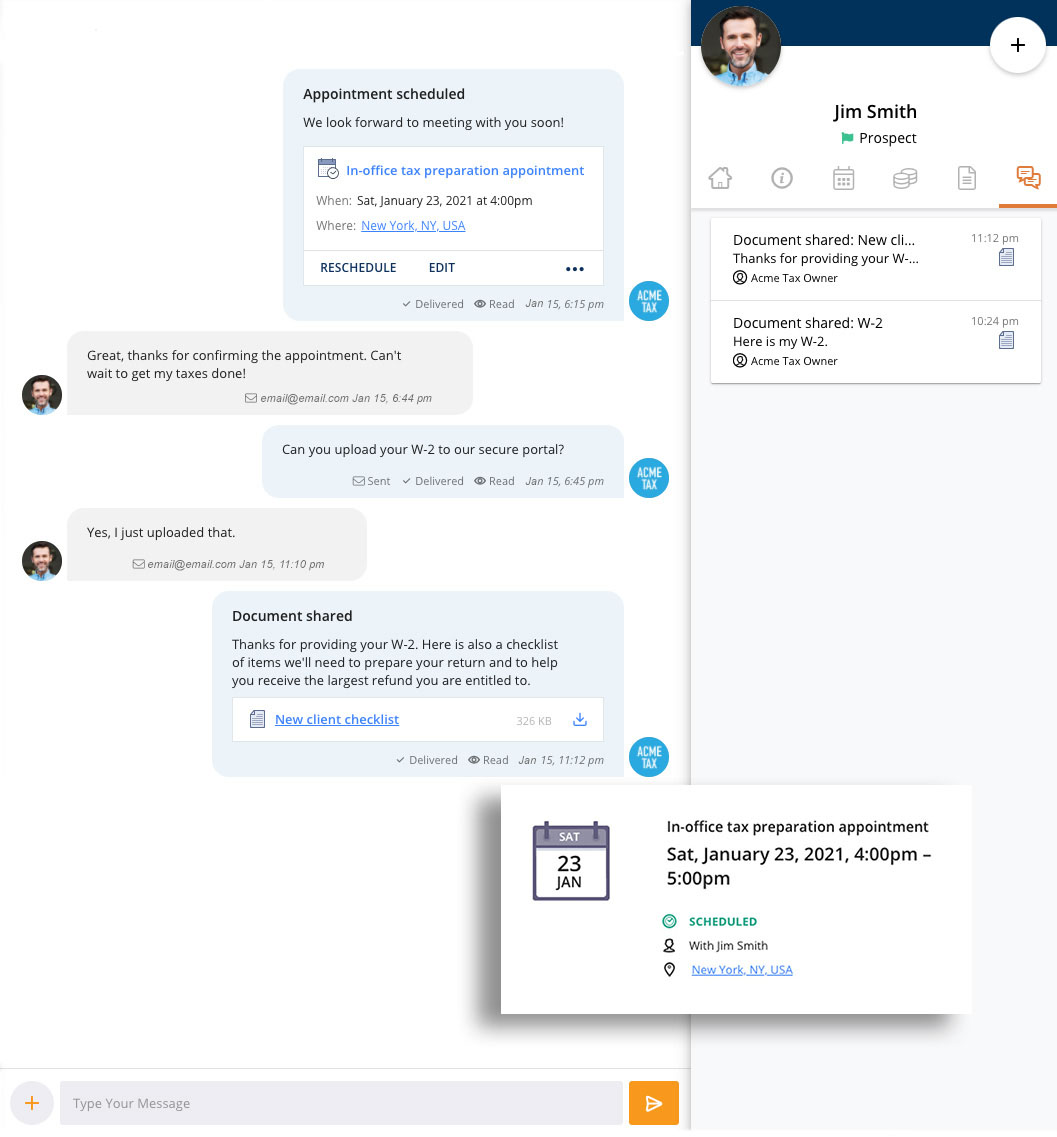 Get an edge over competitors
Many tax professionals are struggling to implement a digital marketing strategy. Marketing Pro helps you get get an edge over competitors that aren't ready to adapt to a digital environment.
24%
of tax pros run digital ads3
20%
of tax pros use
email marketing3
32%
of tax pros have a website3
Complete your marketing toolset
Let TPG help you market like a pro
Activate TPG marketing with Marketing Pro and get access to pre-built premium digital content on a marketing platform integrated with our print and digital marketing materials. Everything works together to drive your growth.4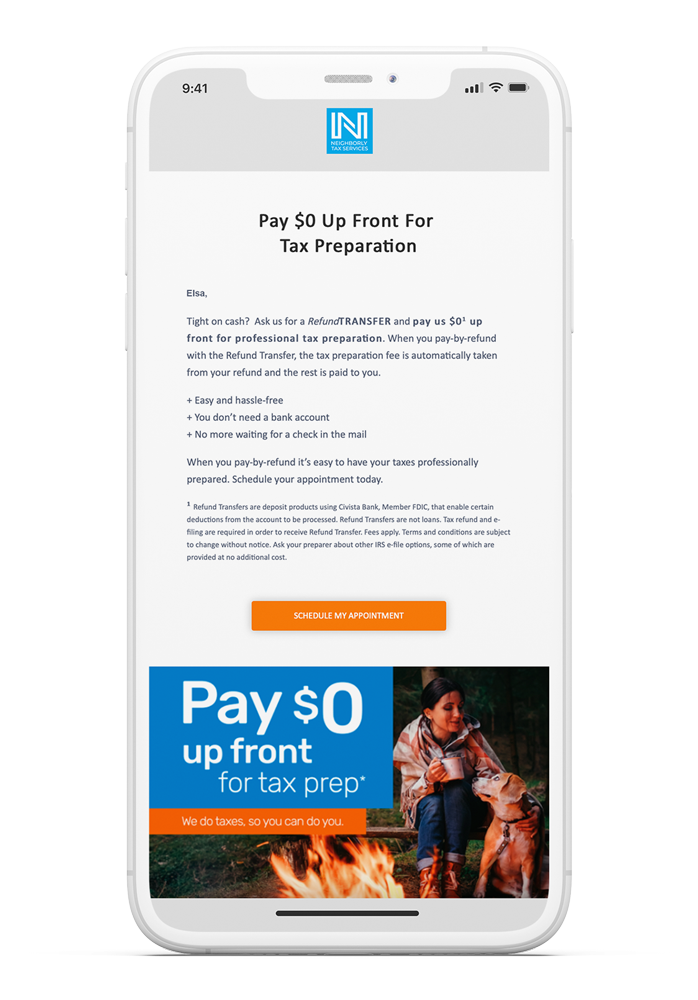 Find the plan you need
Monthly prices displayed below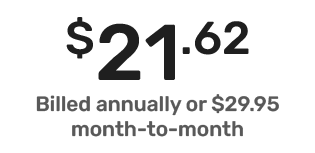 Essentials
Business management platform with scheduling and client management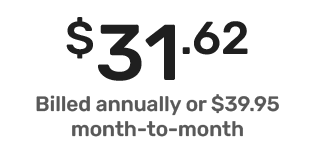 Professional
Complete marketing and business management platform with email and text message marketing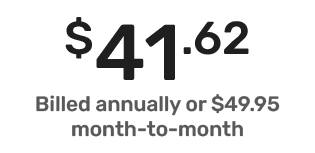 Growth
Complete marketing and business management platform with high capacity and premium support for a fast growing tax practice
Essentials

Professional

Growth

Website & Client Management

Team size

Admin only

Admin+1

Up to 10

Client retention management (CRM)

Client website

Secure client portal

Online scheduling & appointments

Secure document sharing

Real-time conversation

Marketing & Lead Generation

Online lead capturing widget

Automated campaigns

Email marketing campaigns

SMS marketing campaigns

500

1,000

2-way SMS text messaging

Online coupons

Packages & bundles

Services

Knowledgebase

Email support

Chat support

Priority support

Customer Success Manager

Online only

Up to 3 sessions

Full journey
1 Separate fees apply for the Marketing Pro service.
2 To qualify for Marketing Pro Advance Express you must be enrolled with Santa Barbara TPG, and have 1 or more taxpayers that applied for the Refund Transfer and received IRS and/or State funding in the previous tax season.
3 Source: Santa Barbara TPG Annual Survey of 1,970 independent tax
professionals, May 2020
4 Marketing materials available to tax professionals enrolled in our Standard Refund Transfer program. No Purchase Necessary.
Apple, the Apple logo and iPhone are trademarks of Apple Inc., registered in the U.S. and other countries.
App Store is a service mark of Apple Inc. Google Play is a trademark of Google LLC.