The refund advance loan that helps you attract more clients
Offer clients $500 -$6,000
For an ERO fee

as low as $20
Taxpayers may receive $500 - $6,000 1
Low ERO cost - only $20 when loaded on a Walmart MoneyCard 2
Taxpayers may get 25% of refund amount for no cost - for loans up to $2.000**
* Pre-ACK Fast Cash Advance available Jan. 2. In-season Fast Cash Advance available first day of filing.
* Loans of 50% or 75% of expected tax refund have an APR of 36%.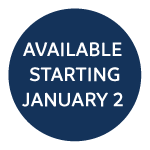 Get help attracting new clients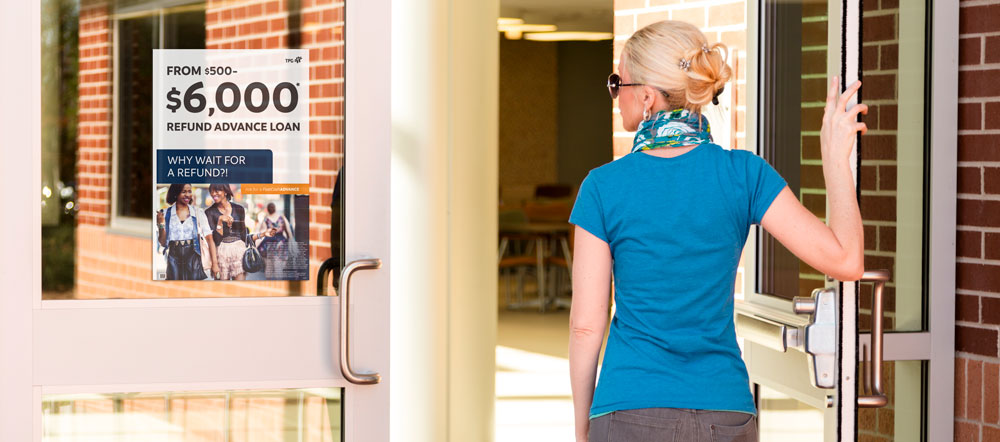 Free marketing materials give you a boost
Enroll in our Standard Refund Transfer program, opt in to FCA, and get the marketing materials you need.*
+ Free Fast Cash Advance marketing kit
+ Free digital ads available to power your social media efforts
+ Free Walmart MoneyCard marketing kit
+ Free Refund Transfer marketing kit
* Available while supplies last.
Get listed in the tax pro directory
Help taxpayers find you
Our free online directory helps taxpayers find your office. You control the information displayed in your online listing and you can list the products you offer.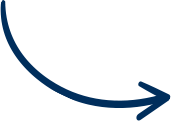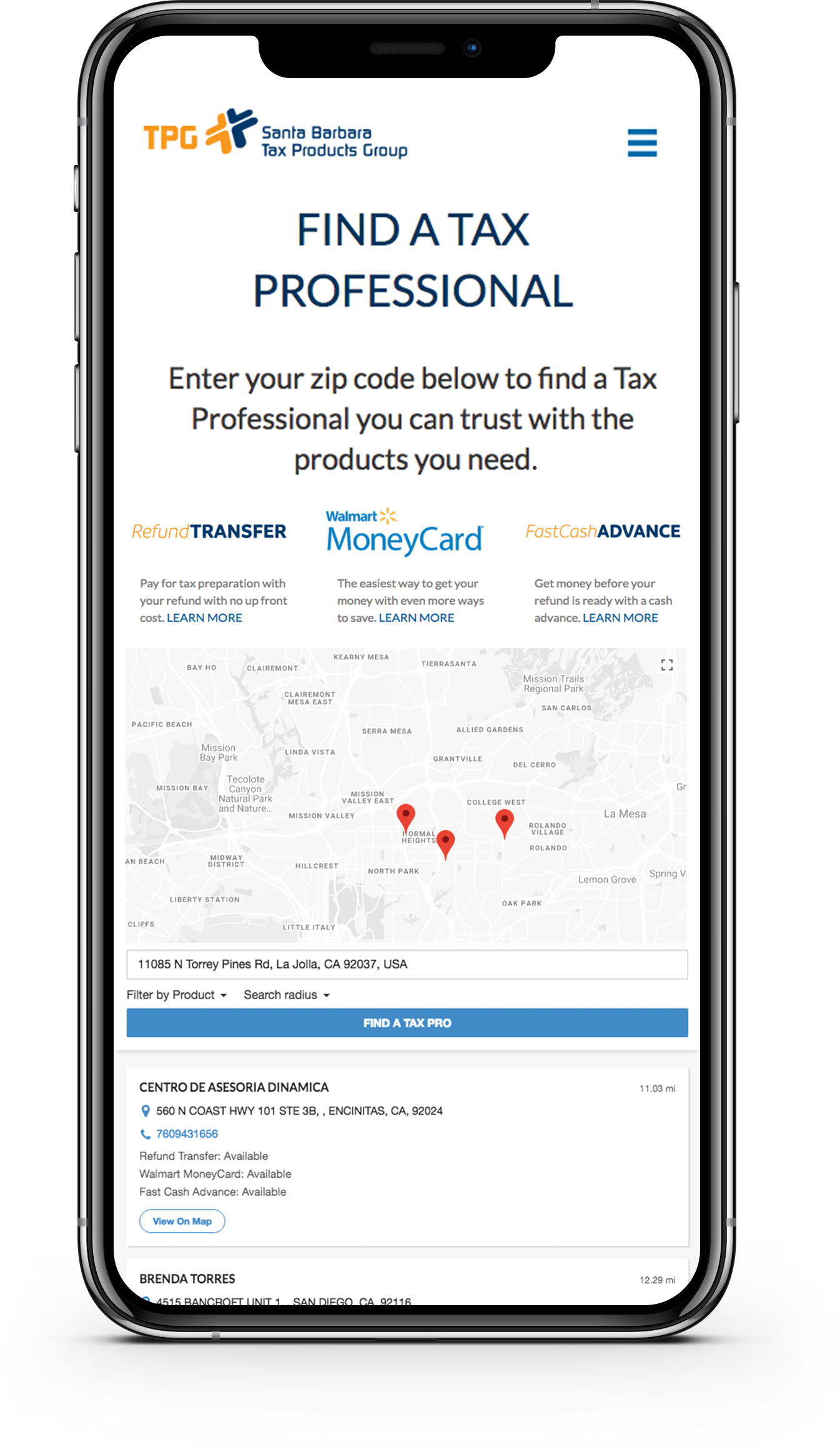 1 The Refund Advance is an optional tax-refund related loan provided by MetaBank (it is not the actual tax refund) at participating locations. The amount of the loan and applicable interest will be deducted from tax refunds and reduce the amount that is paid directly to the taxpayer. Fees for other optional products or product features may apply. Tax returns may be filed electronically without applying for this loan. Loans offered in amounts of $500 or 25%, 50%, or 75% of your expected tax refund from $500 - $6,000. Loan in the amount of $500 or 25% of your expected refund has an Annual Percentage Rate (APR) of 0.00%, a minimum loan amount of $500 and a maximum loan of $2,000. Loan in the amounts of 50% or 75% of your expected tax refund have an APR of 36.0%. For example, $3,000 representing 50% of expected refund borrowed over 24 day terms, total amount payable in a single payment is $3,071.01 including interest. Availability is subject to satisfaction of identity verification, eligibility criteria, and underwriting standards.
2 Based on cost for post-acknowledgment refund advance. Incentive paid as long as IRS tax refund is loaded on to the Walmart Money Card®. IRS tax refund deposit must be received by 5/31/19. $25 incentive paid by 6/30/19 for taxpayers with Fast Cash Advance and IRS-funded Refund Transfer loaded onto a Walmart MoneyCard. IRS tax refund deposit must be received by 5/31/19. If enrolled through a service bureau, please check with bureau associate for details on incentive payment. Must be enrolled in the standard Refund Transfer program to qualify for standard pricing; all discount programs offered through TPG are subject to other pricing.
3 The Walmart MoneyCard  is subject to successful activation. Additional fees may apply. See Cardholder Agreement or visit WalmartMoneyCard.com for complete details. The Walmart MoneyCard Visa Card is issued by Green Dot Bank, member FDIC, pursuant to a license from Visa U.S.A. Inc. Green Dot Bank also operates as GoBank and Bonneville Bank. All of these trade names are used by, and refer to, a single FDIC-insured bank, Green Dot Bank. Deposits under any of these trade names are aggregated for deposit insurance.
The "Spark" design , and Walmart and Save money. Live better. are marks and/or registered marks of Wal-Mart Stores, Inc.