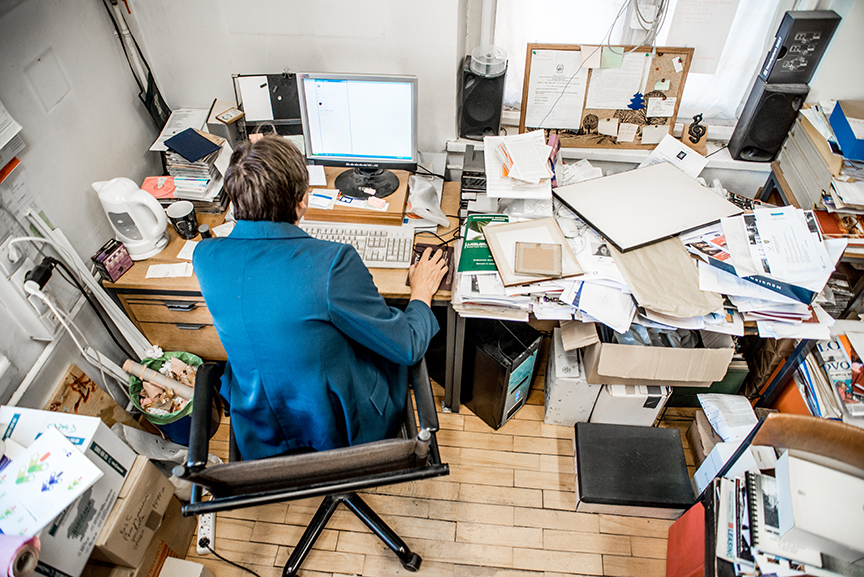 Clean. Clear. Consistent.
Three image qualities you must have as an independent tax business pro to beat out the competition. 
Part one: Cleanliness. What's wrong with this picture?
In a perfect world, it would be nice only to have to worry about tax preparation and not how you look, sound, and connect with customers. Unfortunately, competition is all around us and like it or not, people do judge a book by its cover. Plus, clients lead complicated lives, bombarded daily by all kinds of media. Getting and keeping their attention is paramount. Being clean, clear, and consistent is a discipline and a mindset that that should be a professional tax preparer's priority.
Today's article focuses on the first part, being "clean." It sounds like common sense and goes without saying, well, at least you thought so…
Being "clean" is not just about whether you emptied the waste basket and bleached the sink, but how organized and uncluttered your tax office appears. Find a time in the day to follow these five steps to make your tax office is as "clean" as it should be.
1. Walk to your storefront entrance and turn around. Take a wide picture, a panorama shot, (if you have the means), of your whole office. This is the impression of what people see when they enter your office. Take a moment to really look at the picture. Ask yourself and your team, how organized and uncluttered does this look? How does this make everyone in your office feel about receiving clients and going about their daily jobs? Make sure that your storage and lunch areas are not in the direct line-of-sight of someone walking in the front door.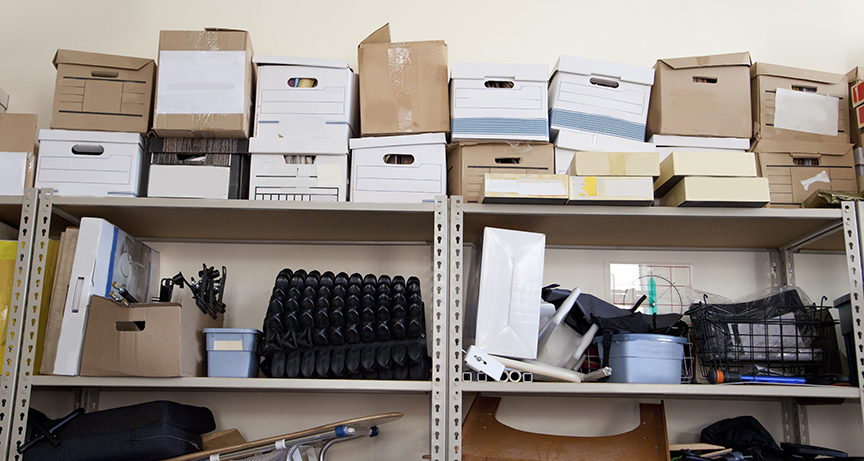 Make sure that your storage and lunch areas are not in the direct line-of-sight of someone walking in the front door. Ideally, this should be something that your customers never see at all, under any circumstances. Yet, it's found to be quite a common practice in many small businesses.
2. End the "stack and pack" mentality or the bad habit of putting out every office item you have in your arsenal of inventory. Regardless of convenience and functionality, there are only so many tools and supplies needed to complete a task. Regardless of the amount of customer information that is important, there is only so much messaging your clients can read and digest at a time. Understand that you don't need to display or merchandise office supplies, products, services, and printed media in stacked rows, soldiering in force along the front lines of some kind of office battlefield. Rather think of your office like a showroom, highlighting one piece of information to the next and keeping office supplies and organizers out only when need to be. You've probably heard the phrase "less-is-more"? It's an understanding that "more" does not really mean better, faster, exciting, or more helpful.
Don't just remove duplicate items; remove items you rarely use. I.E., do you really need packing tape and a screwdriver lying out on your desk?  Use the right tool for the job. I.E. tape less, frame more. Avoid desk caddies. They're hoarding receptacles for pens, paperclips, trinkets, half a lost item, and something broken that has yet to be fixed. Find instead an organizer that goes inside of your desk.
Limit the number of posters and brochures you have displayed on walls, shelves, counters, and desks. On average that means 3-4 posters on a 10-foot wall, maybe 4-6 brochures kept in a dispenser at the reception area, and maybe 2 informational desk mats on a desktop — one to use to explain things, one to give the client to take with them. Capitalize on the fact that most information only needs to be shared some of the time.
The same goes for office decor. While your office shouldn't feel like a sterile laboratory, it's not an experimental art gallery either. Use discretion of how much art to put up. This is when it helps to get a general consensus from your office staff and or perhaps assistance from your friendly, neighborhood decorator. Artwork and decor in your office should be used sparingly, typically as accents and vignettes, not as a centerpiece.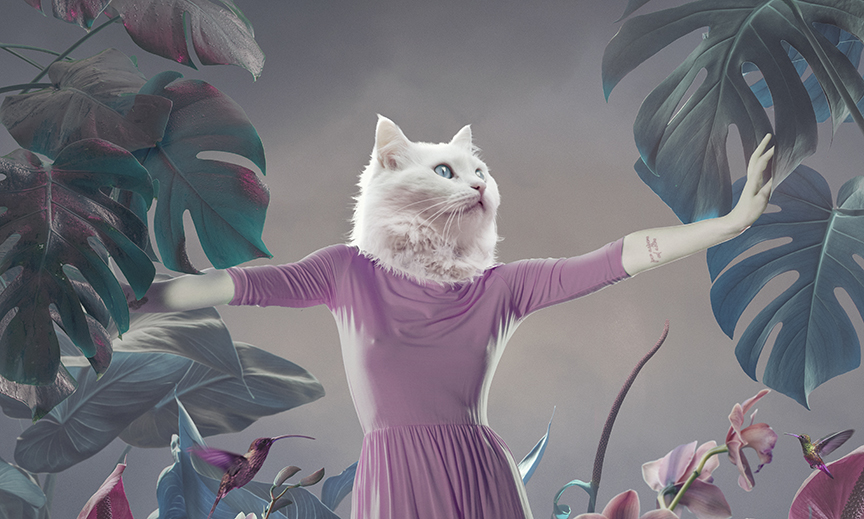 3. Dress like you mean it. No, we're not talking about three-piece suits and ballroom gowns. Nor do we suggest trying to hip-out your staff like an Apple store—It's a brand image that's hard to pull off if not done right. If you're not a fashionista, consider at least: slacks, long or short sleeve dress shirt, depending on the season, and an inexpensive badge or embroidery. Avoid knit golf or polo-style shirts. You are there to help with someone taxes, not change the toner on a printer. If you can't iron or don't want to go to the dry cleaner, there are plenty of inexpensive, easy-care clothing brands available.
4. Embrace the digital age, at least just a little bit. The icons of office organization used to be a filing cabinet, a Xerox machine, a Rolodex, and a day planner.  But today's clients expect you to be digitally organized. Unfortunately, stacks of files and tax binders harken back to days of yore, (and not in a romantic way). Understand, that you don't need to make multiple, physical copies of documents, because that can be accomplished digitally, on various affordable digital drives or through various web-based services, with different security option levels. If excel sheets are not your thing, there is an abundance of easy-to-use software tools covering appointments, bookkeeping, signatures, payroll, daily tasks, etc. Even if you don't like to search the web, software providers and service bureaus are more than happy to direct you to a partner. It's also why going to a trade show, at least every other year, is a good thing. A real person is on hand to give you the training and information you need to make a decision. Can't travel? Ask for an online webinar. Most software companies are happy to give you one of those too.
5. Lastly, find yourself a project room if necessary. Whether it's a place to design, reorganize, or redecorate your office, sometimes having a messy place for days at a time is a necessity.