The fastest and easiest way for clients to receive money.
Benefits for you & your clients
EARN UP TO $25 PER CLIENT
Earn incentives when clients receive their RT & Fast Cash Advance on a Walmart MoneyCard3
NO MORE CHECK PRINTING
Issue one card per client instead of printing multiple checks for the same client.
SERVICE CLIENTS IN LESS TIME
Eliminate clogged offices with clients coming back multiple times for their check.
FEWER INCOMING PHONE CALLS
Clients are notified when their refund is ready so you aren't managing incoming calls.
CLIENTS SAVE TOO
Taxpayers save $10 on the Refund Transfer once their Federal refund is loaded on the Walmart MoneyCard.4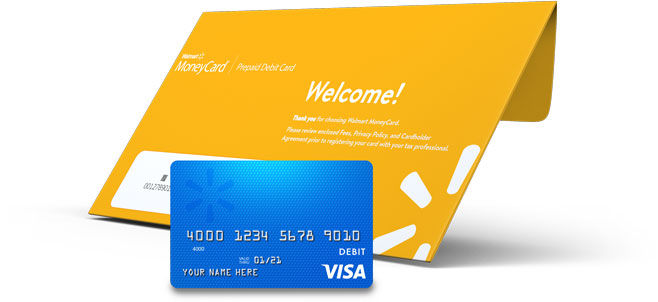 Reduce office traffic to a single visit. 
Clients that select the cashier's check disbursement may visit your office as many as four times. 
With the Walmart MoneyCard you can reduce that to as little as one visit per client. They leave your office with their card in hand so there's no need to come back for one or more checks.
Taxpayer notifications save you time.
Reduce "Where's my refund?" calls from clients with email and text notifications sent to your clients when their money is ready.2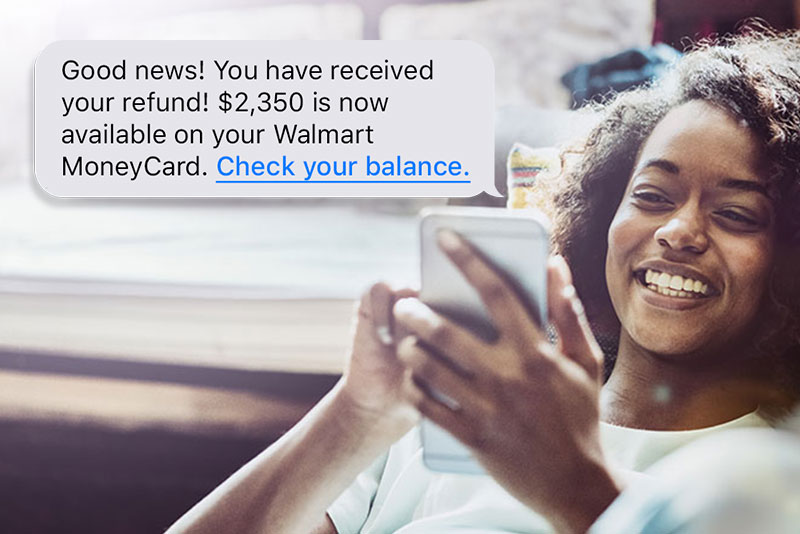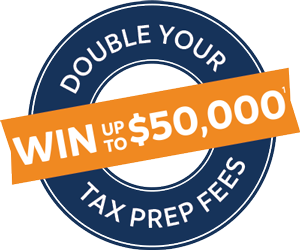 Earn one bonus entry & earn up to $25 per client
When your clients choose the Walmart MoneyCard you earn a bonus entry into our $50,000 sweepstakes for a chance to double your tax preparation fees.5 Plus when clients select the Walmart MoneyCard you can earn up to $25 in incentives.3
Simple & hassle free
The features taxpayers want from someone they trust.
Card eligibility is subject to identity verification. Fees apply to the card. See simple fee plan below. Active, personalized card required for some features and may require additional customer verification and acceptance of applicable terms and conditions.
*Subject to deposit verification and payment provider's process and timing
** Applies to unauthorized transactions. Prompt notice required. A lost/stolen card replacement fee may also apply. See Cardholder Agreement for details.
No monthly charge 1st 30 days. Charge will be waived when taxpayer has loaded $1,000 or more to card in the previous monthly period.*
Purchase Transactions
Online & in-store
FREE
First ATM Withdrawal
FREE
Real-Time Text/Email Alerts
Carrier message & data rates apply
FREE
Replace Card
$3
Foreign Transaction Fee
3% of transaction amount
3%
Mobile App
FREE
Cash Withdrawal at Walmart
At any Walmart Customer Service Center
FREE
Cash Withdrawal at ATMs
Plus any bank or ATM owner fees
$2.50
App or Website Balance Inquiry
50¢ balance inquiry at ATMs, plus any fees ATM owner may charge
FREE
Direct Deposit of Your Pay
or Government benefits
FREE
Walmart Check Cashing Standard Walmart Check Cashing fees and limits apply. Not available in all states or stores
FREE RELOAD
Mobile Check Deposit
with Walmart MoneyCard App
FREE
Load Cash at Select Retailers
Where Green Dot Products are Sold (7-Eleven, Walgreens, etc.)
up to $4.95
* A person-to-person transfer is not considered a load or reload for the purpose of waiving the Monthly Charge.

Tips for improving your office profitability

Tap or click the icons below for more ideas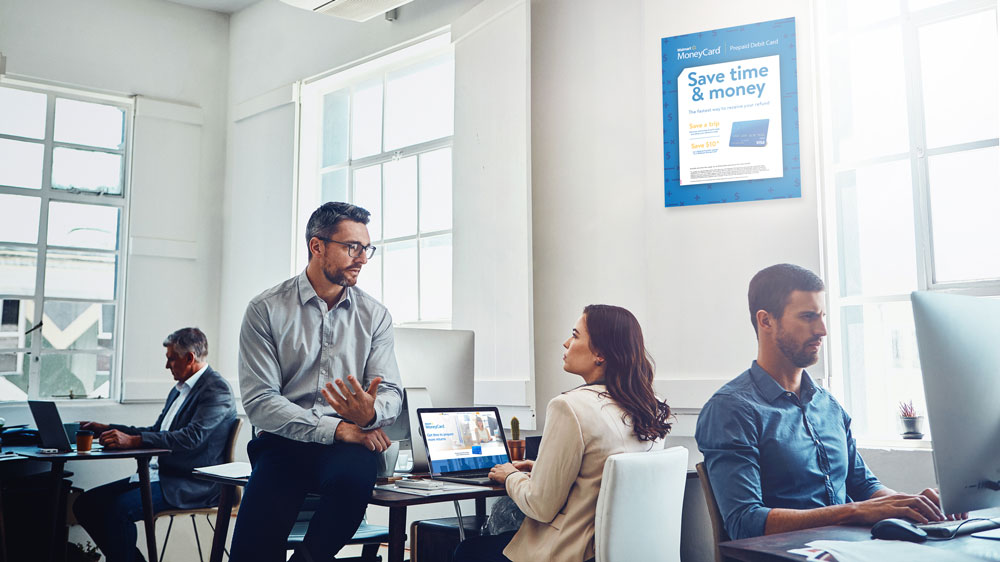 Free Marketing Materials
Inform taxpayers of exclusive promotions by displaying posters and other free marketing materials in your office.

Taxpayer notifications
Use the free Walmart MoneyCard notifications to let your clients know when their money is ready so they aren't calling your office asking "Is my check ready?"2

Get Paid
Earn $5 for every IRS funded Walmart MoneyCard processed through your office. Earn an extra $20 when taxpayers load a Fast Cash Advance on their card.3

Free Digital ads
Download and use free digital ads on your social media page to promote name brand products that you offer.
ENROLL NOW
Save time and earn more with Walmart MoneyCard.