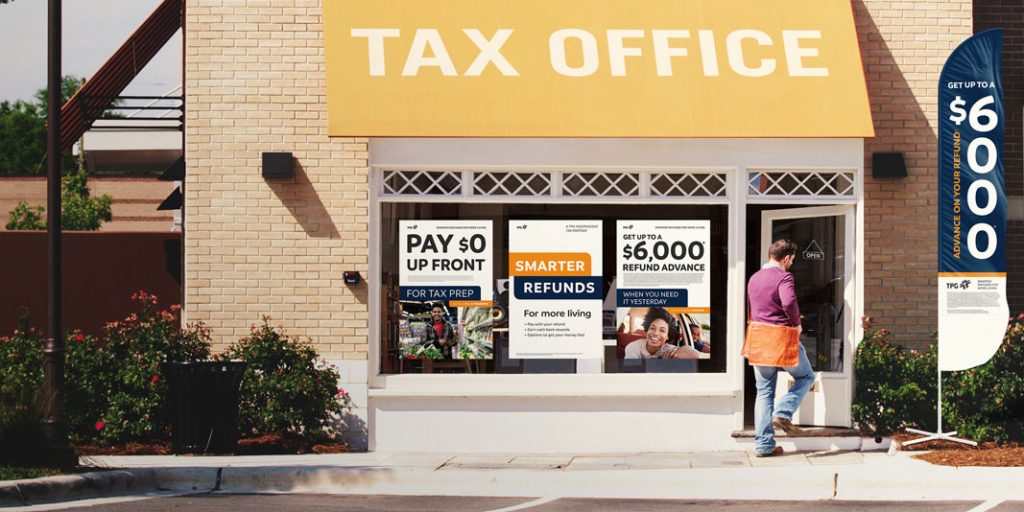 Do you have what you need to grow?
Offer the right products & marketing resources
When you enroll in Santa Barbara TPG's Standard Refund Transfer program, we don't just give you access to the products and services that you and your clients need, but are you also get access to marketing resources you need to grow your business.
While TPG is known for industry leading products and premium support, what also sets us apart is our portfolio of marketing resources that help independent tax professionals level the playing field with large competitors. If you don't have the marketing resources you need, you'll have fewer taxpayers walking in your front door. Less foot traffic = less tax preparation fee revenue. See more resources available here.
Premium print and outdoor advertising
No other bank gives you more high profile advertising resources to help you attract more attention to your office. Get the 1-2 combo with premium products and premium marketing materials to help your office stand out from the competition. Click the icons below to learn more.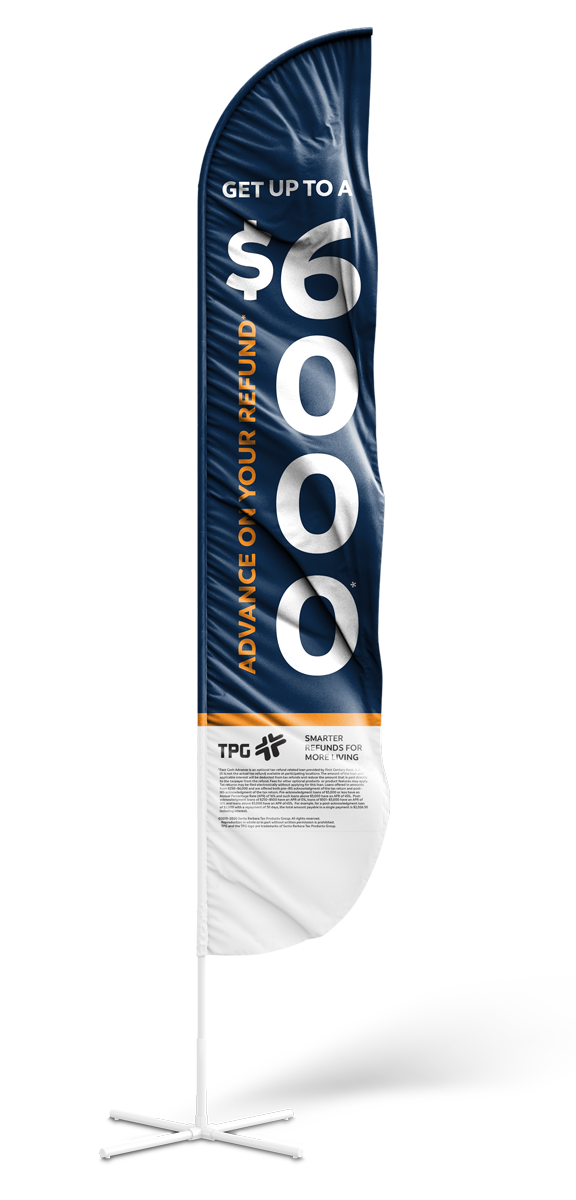 New for 2020!
People can't miss our 10.5' tall Fast Cash Advance flag. Help your office stand out.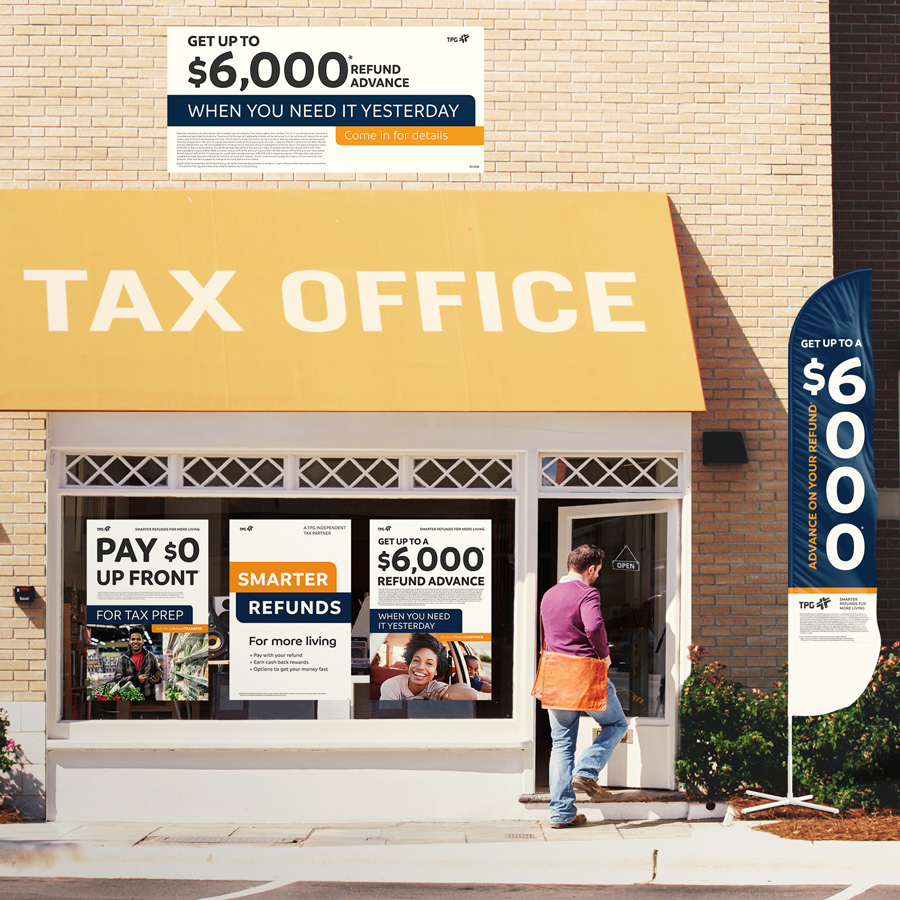 Vinyl banners promoting the Refund Transfer and Fast Cash Advance
New for 2020! Large 2' x 10.5' fabric flag promoting Fast Cash Advance helps you draw street traffic to your office.
Double-sided, oversized posters are attention getters. Promote the pay-by-refund payment option, taxpayer advance and let taxpayers know that your office gives clients a smarter choice with our new "Smarter Refunds" poster.
Digital assets for digital advertising
Whether your digital strategy includes email, digital advertising, web content, or social media, TPG offers digital advertising resources to help you stand out from the competition.
Content for your Facebook page
With approximately 7 in 10 Americans using a single social media network (Facebook) has there ever been a more affordable way to reach consumers in your community? Whether it's just creating a free Facebook business page, or it's creating your business page and advertising on Facebook, TPG provides social content to help you attract attention on Facebook.
69%
of Americans use Facebook*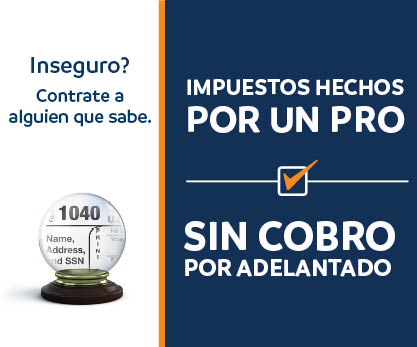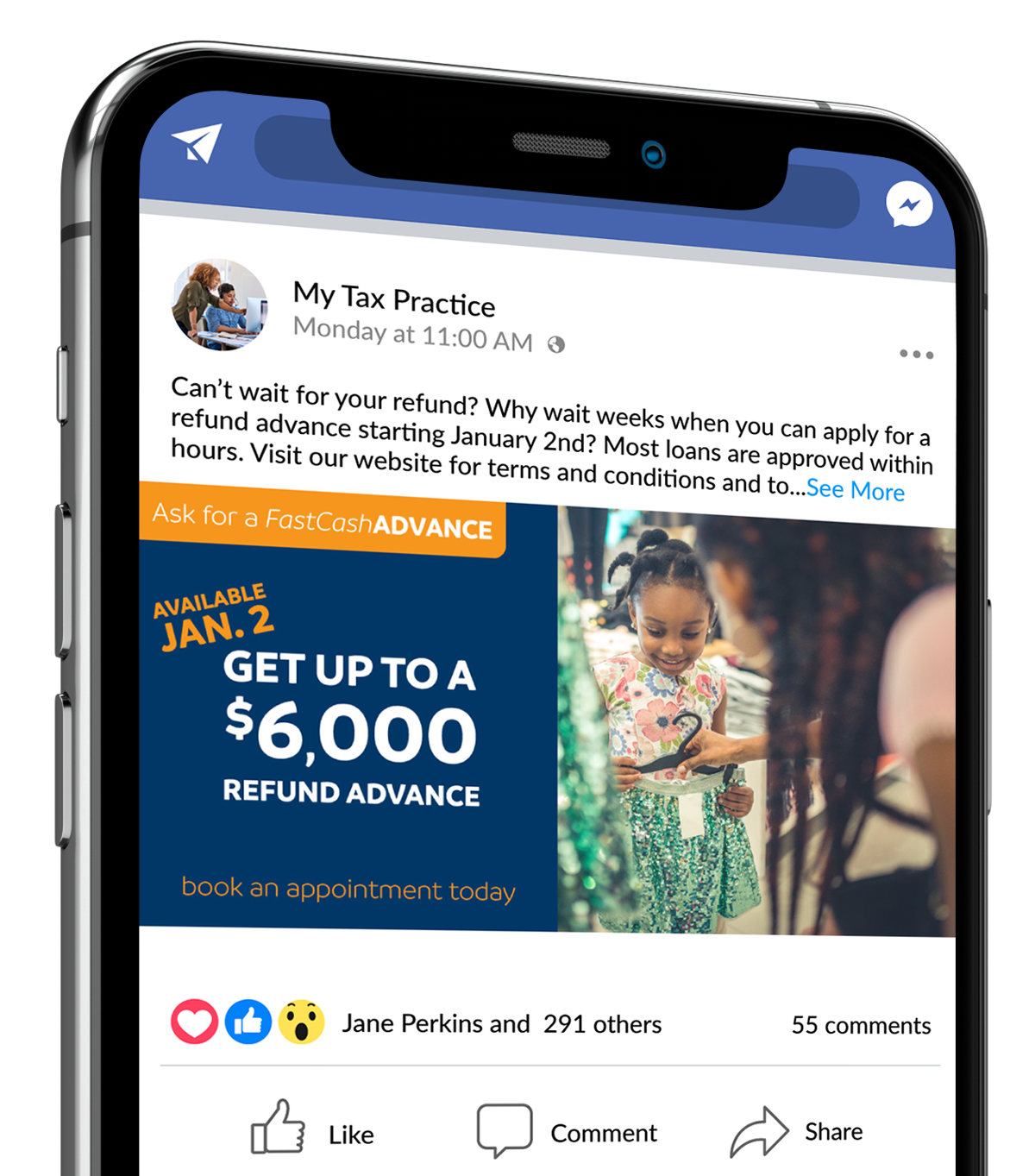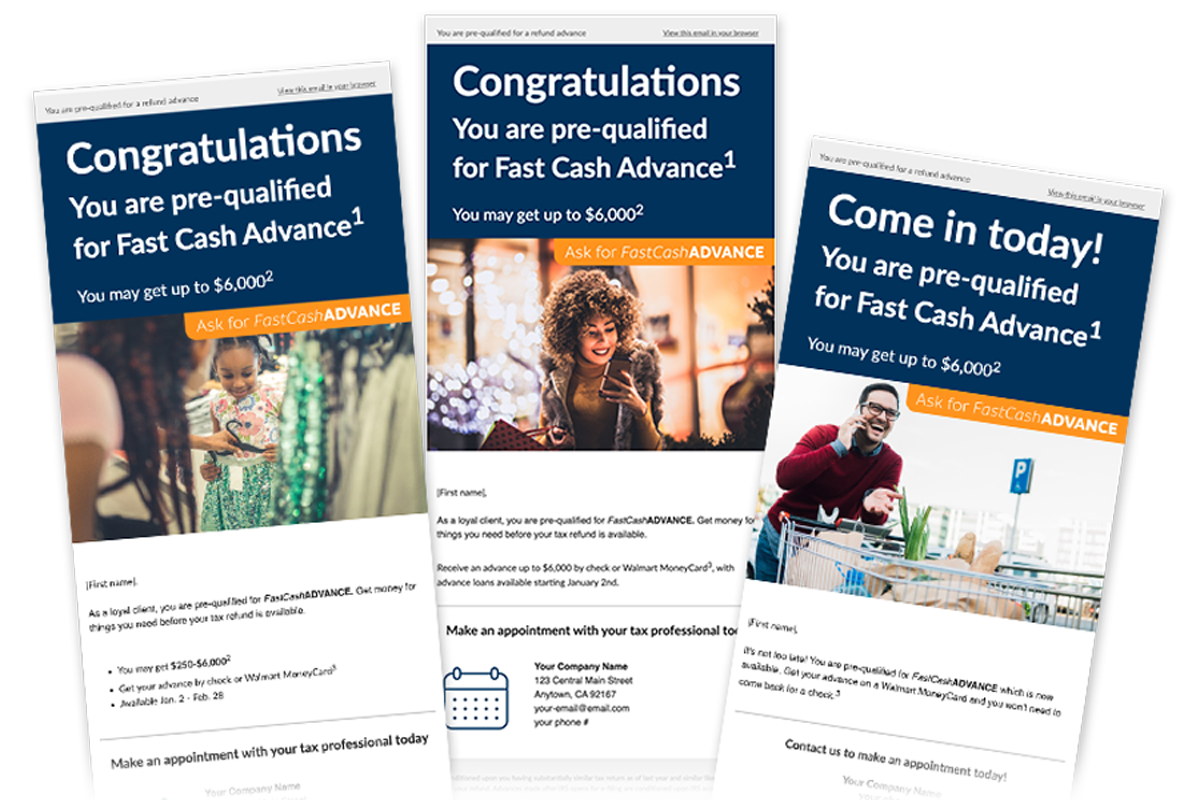 Digital ads
Download ads you can use on your own website, add to client emails or online
Social media content
Download images and content you can post or re-post on your social feed
Client email reminders
Prequalified emails with your contact information are sent to your clients that received Fast Cash Advance last tax season**
* Pew Research study conducted Jan. 8 - Feb. 7, 2019.
**Available to TPG clients that offered Fast Cash Advance last year can participate in our free email marketing program.
Print materials for your office
Get printed marketing materials for your desk and reception area, so you have what you need to explain what is available to taxpayers. Things as simple as our wearable "Get your refund fast" button provide conversation starters that make it easy to talk about products and services you offer.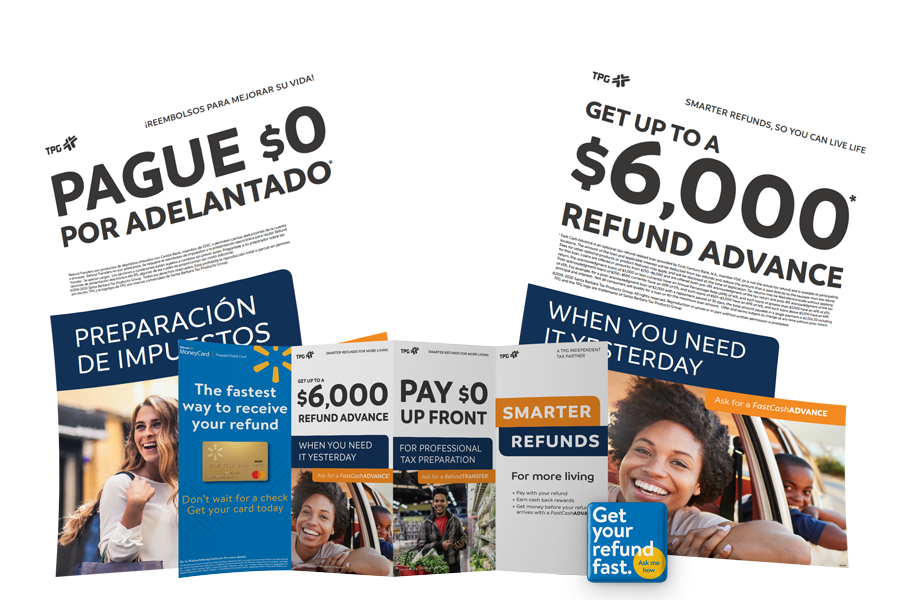 Attract and educate clients
Our versatile desk mat can be setup vertically as a counter card display, or laid flat as a desk mat to help you explain the options available to your clients.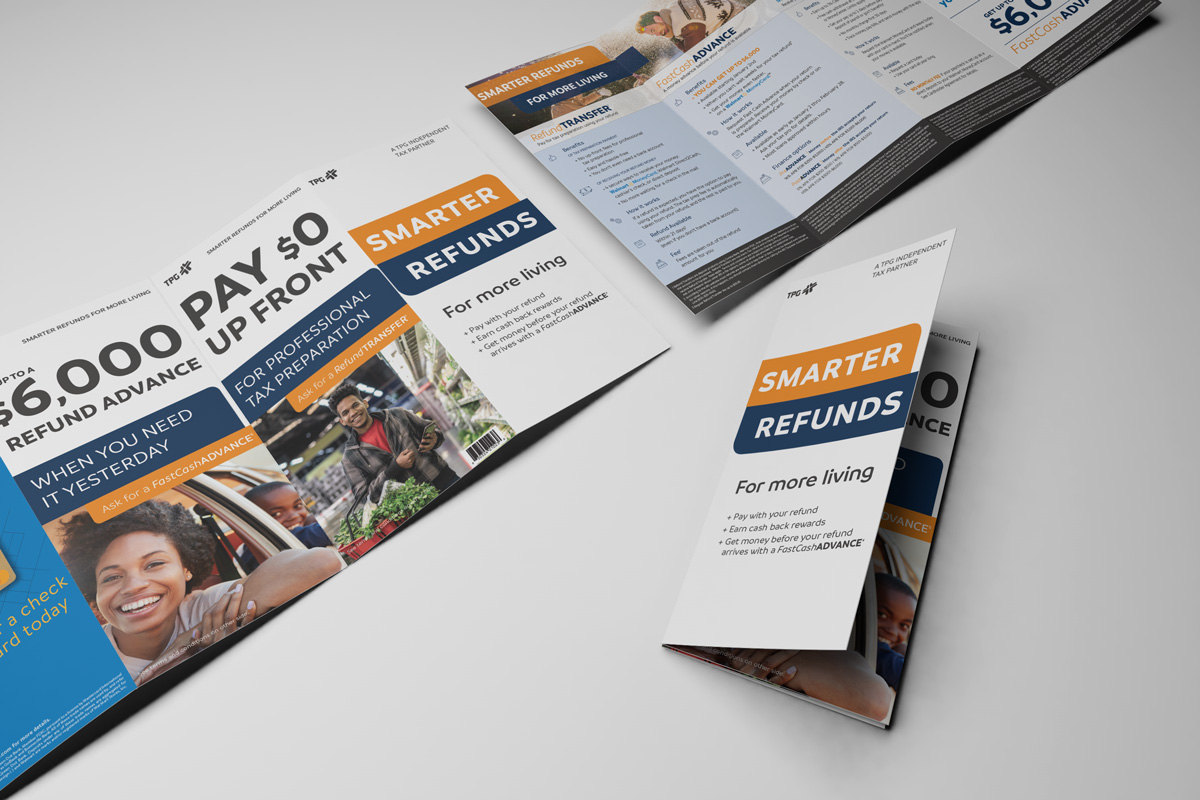 Want access to our portfolio of free marketing resources?
Ready to partner with a marketing leader and get access to a portfolio of free marketing resources? Enroll in our Standard Refund Transfer program now and get access to everything you need.
Must enroll in Standard Refund Transfer program to receive marketing materials and resources. Materials available while supplies last.