Manage your money
Green Dot is great for tax time and all year long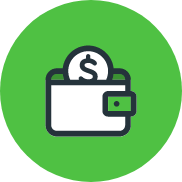 Get Paid Early
Get your pay up to 2 days early and government benefits up to 4 days early with ASAP Direct Deposit™.2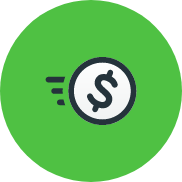 Send Money
Send money to another Green Dot account using the app.3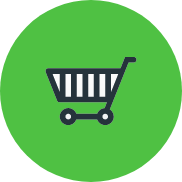 Shop Everywhere
Use everywhere Visa® debit is accepted in the U.S. Even works with Apple Pay, Google Pay and Samsung Pay.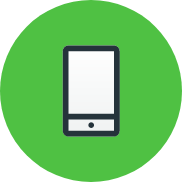 Easily Manage Money
Enjoy 24/7 mobile banking, free mobile check deposit, free bank transfers, online bill pay,  lock/unlock feature and convenient account alerts with the Green Dot app.3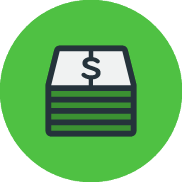 Get Cash
Get cash off your card for free at the register when you make a purchase.
Fees and limits apply.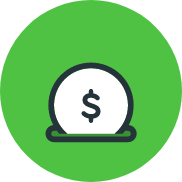 Add Money Easily
Deposit checks, transfer money from an outside bank account, or add cash at the register of 90,000 stores nationwide.
Limits and fees apply.
Must be 18 or older. Registration, online access, mobile number and identity verification is required to open an account and access all features.
The fees for the Green Dot Prepaid Visa® Card include a $7.95 monthly fee, $3.00 ATM withdrawal fee, and an up to $5.95 cash reload fee. However, the monthly fee will be waived if cardholders load $1,000 or more in the previous monthly period.
We charge 4 other types of fees
† No fee for first month. No fee if $1,000 is loaded in prior monthly period.
*This fee can be lower depending on how and where this card is used.
No overdraft/credit feature.
Your funds are eligible for FDIC insurance.
For general information about prepaid accounts, visit cfpb.gov/prepaid.
Monthly fee is waived if you load $1,000 or more to your Account in the previous monthly period. A person-to-person transfer is not considered a load for the purpose of waiving the monthly fee. Your first monthly fee, which is payable when your Account is initially loaded with funds, will be waived regardless of load amount. Subsequent monthly fees will be assessed on the same day of each month. Each monthly period begins the day your monthly fee is assessed and ends the day before your next monthly fee is to be assessed. The initial load to your Account will not count towards a waiver for the second monthly fee.
This fee can be lower depending on how and where you reload your Card. Fees of up to $5.95 may be collected by our reload agents when reloading your Card at their locations. This fee is charged by the reload agent and is subject to change. This fee is not deducted from your Account and will not be reflected in any transaction histories. Reload locations may be found at www.attheregister.com.
This is our fee. You may also be charged a fee by the ATM operator, even if you do not complete a transaction. For your first ATM withdrawal only, you will not be charged the ATM withdrawal fee, and we will credit back to your Card the fee charged by the ATM operator, if any.
This is our fee for a cash withdrawal via a teller at a participating bank.
This is our fee. You may also be charged a fee by the ATM operator.
Using your card outside the U.S.
International transaction
3% of the U.S. dollar amount of each transaction
$5.95 for a pack of 12 checks
Card replacement (regular delivery)
Per lost, stolen, or damaged Card replaced on a non-expedited basis (generally within 7-10 business days).
Card replacement (expedited delivery)
Fee charged each time you request a replacement Card to be delivered to you on an expedited basis (generally within 3 business days). Charged in addition to the Card replacement fee for regular delivery.
1 Incentive paid as long as IRS tax refund is loaded on to the Green Dot Prepaid Visa Card. IRS tax refund deposit must be received by 5/31/21. $39.95 incentive paid by 6/30/21 for taxpayers with Fast Cash Advance and IRS-funded Refund Transfer loaded onto a Green Dot Prepaid Visa Card. If enrolled through a service bureau, please check with bureau associate for details on incentive payment. Must be enrolled in the standard Refund Transfer program to qualify for standard pricing; all discount programs offered through TPG are subject to other pricing.
2 Direct deposit early availability depends on timing of payor's payment instructions and fraud prevention restrictions may apply. As such, the availability or timing of early direct deposit may vary from pay period to pay period. Make sure the name and social security number on file with your employer or benefits provider matches what's on your Green Dot account exactly. Green Dot will not be able to deposit your payment if we are unable to match recipients.
3 Active personalized card required. Limits apply.
Card issued by Green Dot Bank, Member FDIC, pursuant to a license from Visa U.S.A., Inc. Visa is a registered trademark of Visa International Service Association. Green Dot Bank operates under the following registered trade names: GoBank, Green Dot Bank and Bonneville Bank. All of these registered trade names are used by, and refer to, a single FDIC-insured bank, Green Dot Bank. Deposits under any of these trade names are deposits with Green Dot Bank and are aggregated for deposit insurance coverage. ©2021 Green Dot Corporation.
Copyright © Santa Barbara Tax Products Group, all rights reserved.